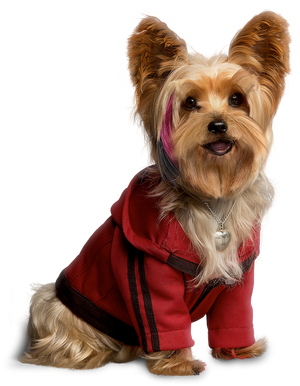 Write the first paragraph of your page here.
Tiny was orphaned at a very young age. She was discovered by Mr Stephen on his way out of a New York Subway Station in Chicago. He literally just picked her up. That was it. He stole her for all he knows. He then "dog-napped" her and brought her home to his family, consisting purely of his daughter, Lou and the Nanny, Ida. Over time, Tiny and Lou bonded. After that, Tiny went on Pup Star and got a golden bone. Later, she got sent to the pound because a cat was chasing Tweety, a bird, and Tiny tried to stop the cat but Roland, a dog catcher, caught her. A dog at the pound, Charlie, escapes by digging a hole and since Tiny is so small, she slipped through to Charlies cage and escapes with him.
Tiny is Yorkshire and is a very talented dog. She is full of heart and is a good pup. She can sing and dance. Tiny cares a lot about her family and her sister Scrappy, who is the only dog that is apart of her real dog hood family.